Our team has more than 25 years of combined experience in gutters.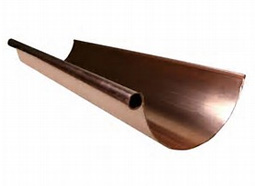 Gutters are essential on any structure, serving as the key aspect of the ability to drain water from the roofline to a designated area on the property. When it rains, the moisture that accumulates needs somewhere to go, and without a proper gutter system, it could end up eroding your soil, damaging your foundation, or causing mold and mildew growth. If the gutter system on your Orlando, Florida home isn't working properly, or worse, doesn't function at all, our team at Empire Gutters can take care of the work.
We are ready to serve you with the latest in gutter technology, and we can fabricate new gutters on site for a customized fit on your home. If you like the look of seamless gutters, which blend in more effectively with the exterior of your home, we can install these on the structure as well. Our seamless gutters are available in 6", 7", 8", and 9" sizes to accommodate every property and its need. We also offer other types of gutters to our customers, including box-style, half-round, and K-style options. If you want to eliminate the need to clean your gutters, we can install gutter guards to prevent clogs.
In addition to gutters, we can install downspouts as part of the drainage system. Our team has more than 25 years of combined experience in gutters. You can count on us to take care of your gutter needs, as well as ensure that your drainage system components function properly and complement the exterior of your home.
---
At Empire Gutters, we can install gutters for those in Central Florida, including Davenport, Kissimmee, Orlando, Winter Park, Windermere, Clermont, Winter Park, Oviedo, Altamonte Springs, Sanford, Longwood, Ocoee, Deltona, Apopka, and Mount Dora.
Similar Services We Offer: