Our rain chains are a fun way to turn your boring downspouts into a charming water feature.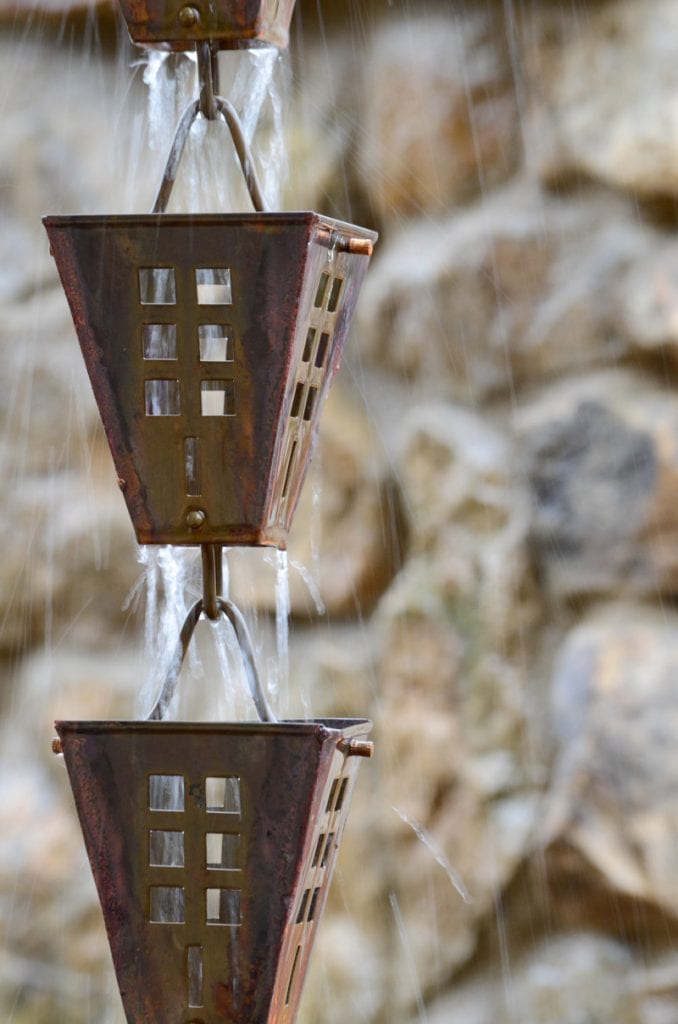 As you can guess from our name, we at Empire Gutters specialize in just that: gutters. Our ultimate goal is to help you protect your home or business from the damaging effects of rain and moisture, and gutters are not the only way to do that. An alternative to traditional gutter downspouts that has been gaining popularity in recent years is known as rain chains, and our team offers them as an option for customers like you.
Rain chains are typically made of a series of linked metal cups, and they are used in place of traditional downspouts. This method of channeling rainwater originated in Japan, but has become increasingly popular in the United States due to its decorative appeal. Instead of simply diverting water down a closed tube where noone can see it, rain chains turn the process of transporting water away from your foundation into an appealing water feature in itself. You and your family will be able to watch the water flowing from cup to cup and get some enjoyment and relaxation out of weather that would otherwise be dreary and dull. We at Empire Gutters have been in this industry for over 25 years, and we would not recommend rain chains unless we were convinced of their effectiveness.
Our team at Empire Gutters is proud to serve the Central Florida community, and we know just how much it rains in this climate. If you want to turn this summer's storms into a fun water feature while also protecting your home from the effects of the rain, we encourage you to give us a call to learn more about our rain chains.
---
At Empire Gutters, we can install rain chains for those in Central Florida, including Davenport, Kissimmee, Orlando, Winter Park, Windermere, Clermont, Winter Park, Oviedo, Altamonte Springs, Sanford, Longwood, Ocoee, Deltona, Apopka, and Mount Dora.