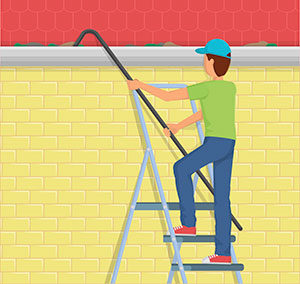 For many homeowners, rain gutters are an afterthought until water pools next to their home's foundation. To be clear, a gutter system's primary function is keeping rainwater away from your home. If you see puddles forming near your foundation, you have a problem you should not ignore.
Puddles can erode your foundation, causing water to leak inside your home. Rain gutters and downspouts simply divert water away from your home. However, even the most expensive rain gutters need gutter services, sometimes as much as twice a year, to ensure they can continue doing their job properly.
At least once a year (twice is best), you should inspect your gutters and ensure water flows smoothly throughout the rain management system. If your gutters are prone to clogs, consider installing gutter guards to prevent buildup.
Closely inspect where the downspouts connect to the gutters. Even a small leak can become a big problem.
Ensure downspouts don't gush water out into places where water can pool. Remember, you want to get that water far away from your foundation.
Inspect your roof and address issues like the gutter connections to the roof lip. If the edge of the roof doesn't have a clear path for rain diversion, it can damage your roof and cause water to leak between the seams.
When you need gutter services, we recommend calling us for a professional inspection. At Empire Gutters, we have 25 years of experience living and working in Florida. When it comes to gutter services, there's nothing we can't install or fix. Give us a call today to schedule an appointment or learn more.