Protect your gutters and prevent the need to clean your gutters with gutter guards.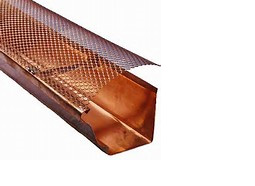 Gutters are one of the most important parts of your property. Without gutters, rainwater has no direction and the runoff from your roofline can start to erode away the soil at the base of your foundation. This leads to foundational issues, pockets of pooling water that can collapse interior walls, ruined landscaping and many other issues. What many people don't realize is that blocked gutters can have these same effects. If you are looking for a way to keep your gutters clean and free-flowing without worry, then gutter guards from Empire Gutters are an excellent solution for your needs in Winter Park, Florida.
Gutter guards are a delightful invention that helps to solve a consistent problem of gutter maintenance. Without the need to drag out a ladder and clean out your gutters, you are able to rest assured that rainwater is always being directed to where it needs to go. Gutter guards are specialty aluminum or copper color matching guards that sit on top of your gutters. These guards allow rainwater to flow through, while blocking leaves, tree needles and other yard debris from clogging and obstructing your gutters.
Made in both copper and white colors, gutter guards can be chosen to match your gutter style in the desired materials. If you have questions about gutter guards, how we are able to assist you here at Empire Gutters or if gutter guards can be used with your existing gutters, please contact us today. We would love to help you with a free quote today.
---
At Empire Gutters, we can install gutter guards for those in Central Florida, including Davenport, Kissimmee, Orlando, Winter Park, Windermere, Clermont, Winter Park, Oviedo, Altamonte Springs, Sanford, Longwood, Ocoee, Deltona, Apopka, and Mount Dora.
Similar Services We Offer: